Workforce Nationalization Framework
Most of the governments with large representation of the expatriate workforce have increased their efforts to nationalize their workforce as a response to the COVID-19 crisis, need for a more sustainable workforce models and the negative economic climate. This paper examines elements of the effective workforce nationalization policies and key process steps.
To compete in the marketplace companies must attract, develop, engage, and retain the best people from national talent pools. In order to ensure they are properly staffed to deliver on business objectives and achieve financial goals, companies need to consider the following elements:
Performance: Measure talent productivity and outcomes to encourage behavior that drives high levels of the desired performance.
Progression: Execute clear career development steps to motivate talent, including training and continued education.
Contribution: Reward employees in a way that is commensurate to their overall contribution, effort, and ability to meet or exceed goals.
Engagement: Establish an effective employee motivation strategy aimed at driving both short- and long-term goals.
An effective workforce nationalization strategy driven by predictive analytics, can allow companies to lead their business toward a more sustainable and high-performing culture.
Workforce Nationalization is a government initiative that encourages or even requires recruiting and employing members of the native-born population for certain jobs or in specific industries, thus reducing the need for expatriate workforce.
Nationalization is an outcome to be managed and reflects an organization's internal workforce dynamics. The key to effective nationalization management is to understand what workforce you've created, where it's headed, and where it needs to go—then remain focused on the most effective strategies for your organization. Workforce nationalization can only be sustained if it is supported by the right enabling environment.
The Workforce Nationalization Framework encompasses enablers, processes and outcomes to effectively manage an organization's national talent.
The pace of change across industry sectors and geographies is accelerating, with labor market reform happening across the world. The private sector including companies, bodies, consultants need to engage and harness the collected energy to take workforce nationalization to the next level. "The introduction of a workforce nationalization framework is as close to a game changer as it gets. Keep in mind that we need a holistic solution and there is no silver bullet for addressing nationalization data and a framework." Paul Lalovich, Agile Dynamics, Partner Organizational Effectiveness and Strategy Execution Practice.
Agile Dynamics research team sourced feedback from organizations in the private sector, government, semi-government, and technology companies to get many stakeholder perspectives on workforce nationalization.
Our expert teams used the best of design thinking approach on Workforce Nationalization to develop a framework for successful design and deployment.
There are several ways of viewing the benefits of design thinking approach in tackling Workforce Nationalization. As a process it is a wonderful catalyst for change and evolution. Internally it is a great way of building collaboration between siloed teams, to create a space for the productive sharing of ideas and building innovative solutions that have the broadest possible support at their inception. It is a process that unites different areas of an organization toward a clear vision.
Agile Dynamics plan to open source the Workforce Nationalization Framework making it part of the public sphere for all organizations to use as a collective source, sharing leading practice, case studies, and what has worked well.
Workforce Nationalization approach
This reference manual is a call to organizations and leaders to think and act differently to advance workforce nationalization. It is a business imperative with deep and profound social implications – an imperative that every business leader needs to personally drive. To accelerate progress, organizations need actual behavioral change on the individual level – beginning with leaders and progressing peer by peer to create real momentum for change.
In this reference manual, we share information about the strategies and tactics that are moving the workforce nationalization needle. We tell you which levers are associated with the largest gains and provide steps you can take to develop the processes of workforce, workplace, and marketplace. Finally, we share with you the performance measures to make that journey sustainable.
Why global companies hire locally
With the accelerated rate of change in the macro-environment – how do we make our workplaces productive and a source of sustainability? Dependence on revenue is shifting from energy to a knowledge-based economy, which means people productivity is imperative to remaining competitive in the global marketplace. This workforce nationalization initiative contributes to building the body of knowledge and resources in order to reach desired outcomes quicker.
Staying competitive and maintaining improved customer relationships requires:
Reduced cost of hiring;
Reduced total cost of employment;
Effective employee retention strategies;
Meaningful connection with the community and
In-depth understanding of the local market.
Winning local business isn't just a matter of having the right capabilities. It's also important to have the right workforce that includes local employees who possess domain expertise and delivery on the company's return on investment.
Stakeholder conflict of views
Government bodies often set requirements for organizations operating in their country to employ a certain number of nationals. This can lead to companies hiring native-born employees that lack the necessary experience, expertise, or skills just to meet the imposed quota. Ultimately this creates a negative experience across the board for the organization, the employees, and the government.
Governments and private sector organizations have the desire to make workforce nationalization successful, but question sustainability. According to our Workforce Nationalization Survey 2020, Workforce Nationalization quotas are challenging to meet and maintain. 64% of employers surveyed currently have a policy or program on Workforce Nationalization, while just under 30% stated that they plan to develop one in the future with 6% of respondents not having a position on the topic.
Workforce Nationalization framework
The Nationalization framework provides a holistic view of the development of a nationalization strategy along multiple key dimensions building a sustainable pipeline of high performing engaged nationals. When people thrive business and societies thrives.
Starting with the enablers, nationalization strategy is a subset of an organizations people strategy where the context of the region is brought into play.
Deployment – requires necessary investment and establishment of people-centered policies, processes, systems that will keep stakeholders across all ranks accountable for outcomes. Put your nationals and their needs in the middle for design and implementation.
Alignment – continuous analysis, review, and required corrective actions to strengthen workforce nationalization. Implementation of the strategy through actionable initiatives. Keep stakeholders accountable and moving in the right direction.
Examine current hiring, performance and development processes to drive high levels of engagement among the national workforce. Analyze company environment and culture to foster an engaging and innovative workplace. Establish a strong market presence and active engagement of targeted talent pools for example, employer sponsorship and scholarship programs.
The impacts are twofold; builds a strong external brand, and a sustainable internal talent pipeline. Constantly measure the implementation success (e.g. stakeholder interviews, engagement surveys, targets and metrics monitoring).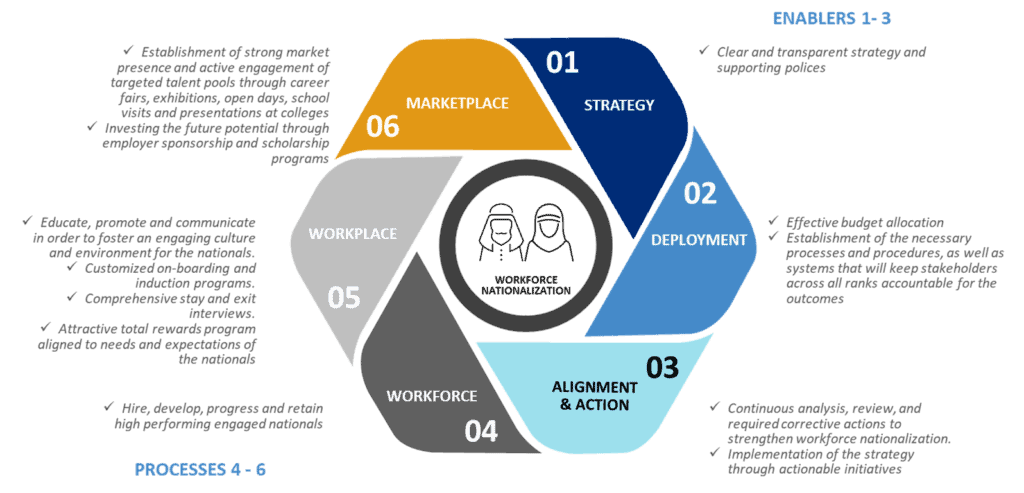 The nationalization framework is the structure underlying the relationship between all the elements.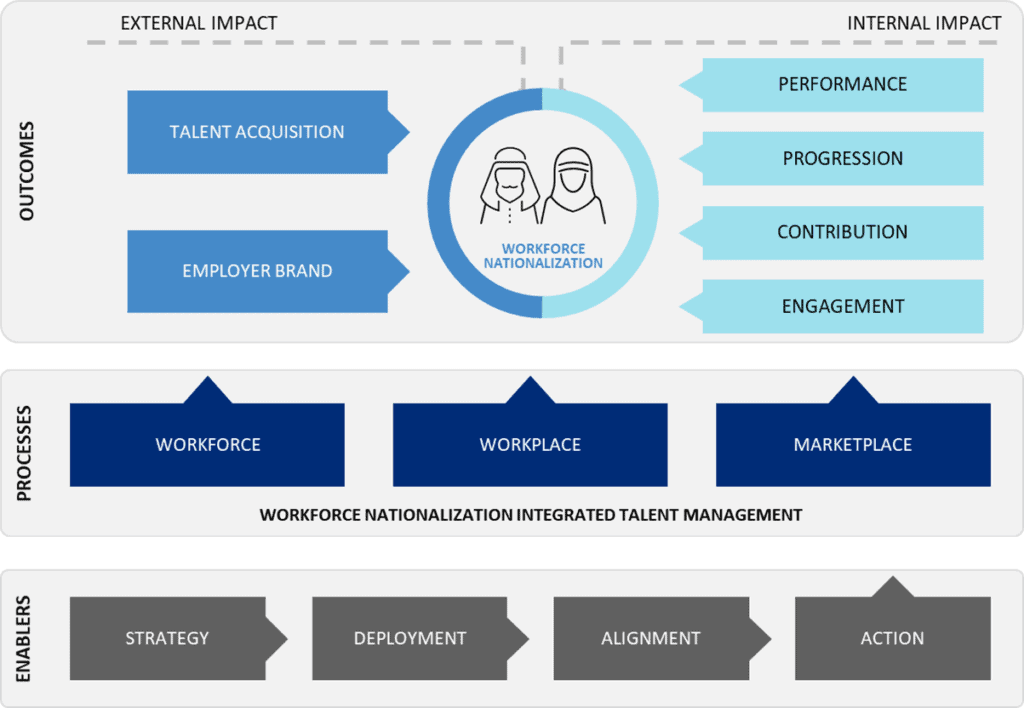 What does success look like?
The success will be measured by ability to create effective workforce nationalization policies that will have a meaningful impact on labor market needs and building sustainable workforce for diversified and knowledge-based economies while achieving employment equity, closing the wealth gap, and fostering equitable economic growth.
Christopher Page
Talent and Culture Practice
Paul Lalovich
Organizational Effectiveness and Strategy Execution Practice